24 Hour Emergency Locksmith Service
There is nothing more stressful than the inability to gain access into your own residence, business, or vehicle, especially if it is late at night. We completely understand the frustration and are proud to be one of few companies to offer 24-hour locksmith services. Safe&Secure Locksmith professional technicians are here for you during the most delicate situations related to locks, keys, and automotive locksmith services. We offer a 24-hour emergency locksmith service that provides professional assistance for your residential, commercial, and automotive needs.
Emergency Locksmith Vancouver
MOST COMMON REASONS FOR LOCKOUTS:
Keys locked inside your home, business, or vehicle. Taking your dog out for a walk, running late to work, and grabbing the wrong keys are common circumstances that we've all faced at one time or another. Best believe that we are ready to help you in these unpleasant situations.
Lost or stolen keys. If your keys were lost or stolen, our job is not just to help you regain access to your home or vehicle, but also to advise you on rekeying or replacing your locks as soon as possible. We are also able to cut and program a new car key for your vehicle on site and disable the lost/stolen key. Your safety is our priority!
Damaged hardware or broken key. You return home, insert your key, and it turns but does not unlock the door (or worse breaks in the keyhole). Old and worn out locks are more vulnerable to failure and possible lockout. Same goes for cars – car door locks and ignition lock cylinders are vulnerable to wear and tear.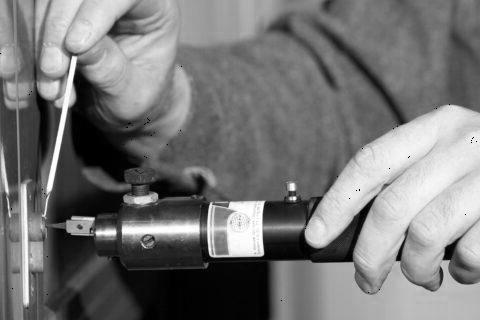 Mobile Emergency Locksmith Near You
TAKE FOLLOWING STEPS IF YOU ARE LOCKED OUT:
1. DO NOT PANIC.
We know how stressful and unpleasant this may be for you. No matter what time the emergency happens, we have professional locksmiths available 24/7.
Please try not to manipulate your lock or door structure, especially by inserting a hanger inside of your car, as you are more than likely to cause more damage to your lock, or worse, your door. Also, it may scratch the paint and ruin weather stripping. In the end, you'll experience a much higher expense than the cost of an emergency lockout service.
2. CALL SAFE&SECURE LOCKSMITHS.
Simply call us and we will dispatch a professional locksmith to you. Once the technician arrives, they will figure out the best possible solution and get you in your home, office, or vehicle as soon as possible.
If your keys were lost or stolen, our technician is able to cut and program a brand new key for your vehicle, or cut a replacement key for your home or office and/or rekey your door locks. Either way, we have you covered!
3. ASK US HOW YOU MAY PREVENT LOCKOUTS IN FUTURE.
There are many ways to avoid a lockout. For example, keypad lock will completely eliminate the lockout issue once and for all. Another suggestion is if you only have only one car key available, we highly recommend that you get a spare or duplicate key, so that if/when an emergency occurs, you will have an additional key available to unlock and start your car.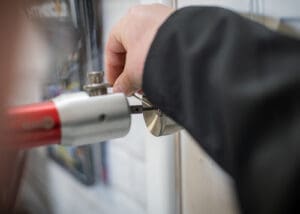 We offer you the following emergency locksmith services:
Residential and commercial lockout
Replacement lock
Lock rekey
Lock repair
Car Lockout
Replacement car key
Car key extraction
Ignition repair
FAQs
Below, you can find some of the most frequently asked questions from our customers. If you can't find an answer to your question, give us a call!
► How fast can an emergency locksmith reach me?
Most lockouts are an emergency and we treat them as such. Our mobile locksmith team will typically arrive at your location within 30-60 minutes. The exact arrival time will depend upon traffic conditions in the Vancouver area and your location. If, for whatever reason, we are experiencing a problem getting to you, we will notify you right away.
► I lost my keys. What should I do?
If you find yourself in this situation, call our office. If your home or business keys were lost or stolen, we will first get you inside and then advise you to have your locks rekeyed. If your car keys were lost or stolen, we will make a replacement key and disable all the original keys (if possible, restrictions apply).
► Can your locksmiths open any kind of lock?
Our locksmith experts are trained to handle various kinds of lockout situations that you might face, including unlocking all standard locks, replacing any damaged locks and hardware, and any other locksmith services. Some high security locks will require a case to case approach and additional charge.
► Do all locksmiths work 24/7?
No. Providing emergency 24/7 locksmith assistance is not for everyone. However, Safe&Secure Locksmith is one of a few companies that offers 24/7 emergency locksmith services. We would like to help you even during the most inconvenient times.
► Do 24/7 locksmiths turn down any work?
Depends on the service requested. For example, car key programming for many European cars is a very delicate process that in many cases requires extra time. Therefore, we would prefer to provide service in the morning. Another example is lack of proof of identity. If you cannot provide proper documentation of your identity during lockout or car key replacement, we will politely deny you service. This is as much for your protection as for that of Safe&Secure.
---
Safe&Secure experts will be there for you in situations of emergency. All of our company vans are fully equipped for even the most complicated cases. We do not need to take any parts to our shop, everything is done strictly on site for fast, reliable, and convenient service.