Master Key System
What is a Master Key System?
Let us assume that you are the owner of a small car dealership. You have a key that unlocks the front and back entry doors, another key for business offices, and another key for the service department. Sales department has its own key and finally, your office uses yet another key. That is a total of 5 keys. What if you could manage to have one master key that would unlock all locks in the facility and your service manager their own key that would only unlock entry doors and the service department? How about another key that will unlock business offices, but not your office? Having a Master Key System makes all those possibilities a reality!
Our main goal is to provide you with a master key system that is unique to your property based on your needs. We will successfully install your master key system without disrupting your day-to-day business activities.
Benefits of a Master Key System
Master key unlocks all doors
Control access to specific departments or offices
Flexibility of design gives ability to easily update system
Each individual only uses one key that would unlock one of more door locks
Availability of 'DO NOT DUPLICATE' master key system. No copies can be made without your consent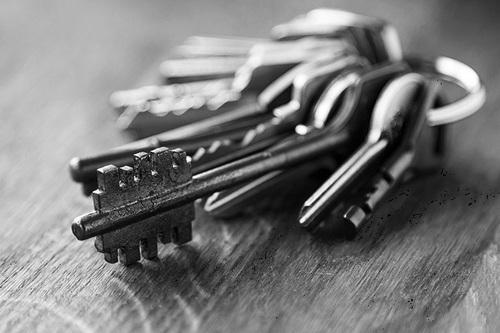 Patented Key Control System
Safe&Secure Locksmith is an official Kaba Peaks Preferred dealer, one of the few in the Vancouver area. Kaba Peaks Preferred has two major benefits over other brands:
Patent protection until 2024. Patent is designed to prevent the manufacture of aftermarket key blanks. This assures end-users that duplication of their high security keys can only be done by request in a controlled manner by authorized individuals.
Key control. Key control is establishing policies and procedures to control the process by which keys in a facility are managed and accounted for, thus limiting access to authorized personnel. Sound key control policies establish accountability, while maintaining the security of the facility.
High Security – this is not your standard Schlage lock. Kaba Peaks Preferred offers high security protection which makes it a lot harder to pick or bump your lock open. Drilling it open will require time and noise.
Kaba Peaks Preferred is a perfect master key system solution. Call Safe&Secure Locksmith today for a free consultation.
Why choose Safe&Secure Locksmith?
Quality – Quick and reliable master key system by our certified locksmiths.
Licensed and Insured – Safe&Secure Locksmith is the most trusted locksmith in the city of Vancouver area. If, for any reason, you are not 100% Satisfied with our service, feel free to contact us at any time, so that we can send our technician out.
24/7 – We are available 24/7/365. We are here for you whenever you need us.
Friendly Staff – Our professional and friendly staff will ensure your complete satisfaction. We describe and explain all of our work in detail so that you feel more comfortable. We will not leave your facility unless you are 100% satisfied.
Free Consultation – Master key consultation is free of charge. Call us any time so that we can send one of our professional technicians to examine your premises, determine unique needs, and recommend the best possible solution.
Contact us today for a free consultation. We will find the best solution for your needs!