Residential Locksmith
Providing Security, One Lock at a Time
Our goal is to provide you with a professional, reliable, and efficient service.  Whether it is an emergency lock replacement service or a simple lock rekey we will do what is necessary to ensure you are 100% Secured and Satisfied. Secured Locks is licensed, insured and bonded. We are also a member of the Associated Locksmiths of America. Feel free to contact us at any time so that we can send you one of our professional locksmiths to ensure your complete security and satisfaction!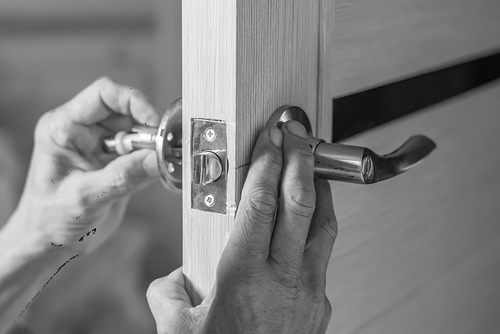 Our Residential Locksmith Services
Emergency ResidentialLockout Service
If you are locked out of your house or had your house keys stolen feel free to contact Secure Locks for a fast lockout service. Our technician will come to your location quickly to safely unlock your lock.
Residential Lock Replacement
Old and worn out locks may eventually lead to a lockout. We recommend your locks replaced at initial signs of wear and tear. We also provide high security locks in case you need extra security for your residence.
Residential Lock Installation
If you have purchased your own locks and simply need it installed we can absolutely help. Our professional technician will disassemble your existing lock, make all necessary adjustments, and properly install your new hardware making it look professional and elegant.
Residential Lock Rekey
Replacing door locks for security is not the only option. We can also rekey your locks. Lock rekey will make your existing keys inoperable and you will have a brand new set of keys when the process is complete. This option does not require replacement of locks.
Residential Lock Repair
Some locks cost well over $300 to replace. However, if there is an issue with lock functionality you may not have to spend a fortune to replace it. In many cases, we are able to repair it for you by replacing worn out or broken part. This option is cost-efficient and practical.
Residential Safe Lockout
We are able to unlock small and medium-sized safes. Unfortunately, we cannot guarantee no damage to the safe during the process. It will depend on the specific locking mechanism of the safe. We do not service large gun or storage safes.
Why choose Safe&Secure Locksmith?
Licensed and Insured – We are licensed, insured and bonded. All of our locksmiths completed rigorous training and have thorough experience to assist you with even the most complicated and rare locks. We are also a member of Associated Locksmiths of Canada.
100% Satisfaction Guarantee – Safe&Secure Locksmith is the most trusted locksmith in the city of Vancouver area. We stand behind our service and back it up with a 90-day Guarantee. If you are not satisfied with our service contact us at any time so that we may attempt to adjust and fix any issue.
Quality Product – Safe&Secure utilizes 'UL Listed' (Underwriters Laboratories) high quality locks. A UL listing indicates that UL has rigorously tested manufacturers' hardware and determined that it meets UL requirements of nationally recognized Standards of Safety.
Experience – Safe&Secure Locksmith has years of experience and practical knowledge installing a wide variety of locks, including; cylindrical locks, deadbolt locks, smart locks, keypad locks, mortise locks, handle set locks, and others.
Safe&Secure Locksmith a wide range of locksmithing services and solutions for residential and clients throughout the Vancouver area.  Our reliability, professionalism and availability of 24/7/364 emergency services is only a call away.